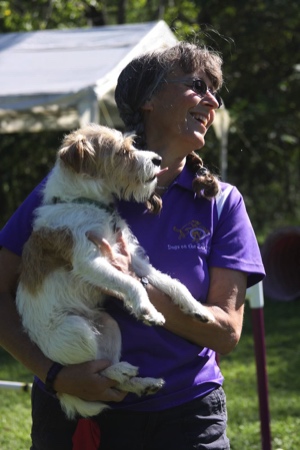 Living in Harmony with your Dog…
A well-behaved dog is not a matter of luck. You have to teach your dog what your expectations are so that your dog can meet them and become a great companion or a great agility competitor (or both!). We all know that dogs don't speak English, yet in our interactions we often expect them to automatically understand what we say, or even to read our minds. I will teach you how to use "language" – not only words but body and hand movements, too -- to communicate with your dog so that your expectations are understood. My methods are entirely positive, which means we use a systemof rewards, combined with a patient attitude and an essential sense of humor, to motivate your dog. This process is enormously rewarding for dog andowner alike, but it is not magic. It requires consistency and practice. And patience. And a sense of humor. Did I mention consistency, patience, practice, and a sense of humor?
RELATIONSHIP:Agility is my passion because it is a great way to have fun with my dog while training and building a relationship at the same time. My dog and I should be such good teammates that it looks like we're dancing through an agility course. There is not enough time to verbally tell the dog everything that needs to be done on course. But when the dog understands body language and hand movement, it looks like the dog is reading my mind. Everything I do with my dog during a normal day affects our relationship in the agility ring. That is why I train all dogs as if they will enter an agility ring some day.






SUCCESS:I think it is very important to train behaviors by breaking them down into small successful steps that are rewarded in a positive way. This applies both to daily interactions with the dog and to specific fundamental behaviors, such as sit, down, come, wait, greet a stranger politely, and walk on a leash. The training aid I use is a "clicker." It is a precise way of communicating to the dog when it has done something I like. The clicker itself is not essential, but the theory is. The "click" signals that the dog is about to receive something of value – a treat, a toy, a pet, praise. The dog learns to make me "click" by exhibiting the signaled behavior again. (To learn more you just have to attend one of our classes).






RESPONSIBILITY:In addition, as a trainer I must take responsibility for my own mistakes and my dog's mistakes and unwanted behaviors. By doing this, I can fix the errors. If blame is placed on the dog, then I am not in control to fix them. This training method develops a trusting and respectful relationship and produces a dog that is confident, successful, and willing to learn.