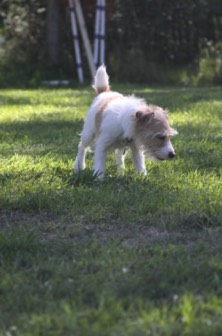 Dogs have an amazing sense of smell and a natural desire to hunt. K9 Nose Work® is the fun search and scenting activity that virtually all dogs and their people enjoy…The activity and sport of K9 Nose Work® are designed to develop your dog's natural scenting abilities by using their desire to hunt and their love of toys, food and exercise.

Dogs with no prior training or dog sport experience find success early and often with K9 Nose Work® as their first activity.

Shy, fearful or reactive dogs all love K9 Nose Work®, because dogs are always crated and separated and K9 Nose Work® games are always played one dog at a time.

High energy dogs burn calories as they race around on the hunt. Aging or disabled dogs can flex their brain muscles as they puzzle out the search at their pace.

It's a great way for your dog to have fun, build confidence, and burn lots of mental and physical energy. All dogs and handlers welcome.